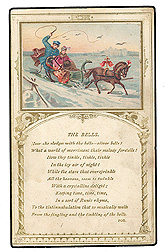 Victorian Christmas card with a stanza of Poe's famous poem and an image featuring an old-fashioned sleigh ride.
Dating from around 1880, this Victorian Christmas card, about the size of a postcard, features a single stanza from Poe's poem, with an image of a young couple enjoying an old-fashioned horse-drawn sleigh ride across a snow-covered landscape. (The horse, of course, is festooned with bells.) The back of the card is blank. The portion given, reproducing the first stanza of the poem and omitting only two lines from Poe's original, is as follows:
THE BELLS.
Hear the sledges with the bells — silver bells!
What a world of merriment their melody foretells!
How they tinkle, tinkle, tinkle
In the icy air of night!
While the stars that oversprinkle
All the heavens, seem to twinkle
With a crystalline delight;
Keeping time, time, time,
In a sort of Runic rhyme,
To the tintinnabulation that so musically wells
From the jingling and the tinkling of the bells.
POE.
(This item is displayed here, with permission, from a private collection.)