One of the more unusual applications of Poe's writings occurred in the 1920s-1940s, when his "Sonnet to My Mother" was adapted for use on Mother's Day plaques. From Poe's full poem, only a portion of the first stanza was used, the rest being too specific to Poe's own circumstances and relating to the death of his wife, Virginia — lovely and heart-felt, but hardly suitable as a generic Mother's Day gift. The portion used is as follows:
In the Heavens above,
The Angels, whispering to one another,
Can find, among their burning terms of love,
None so devotional as that of Mother.
The variety of such plaques was extraordinary, and many have survived in surprisingly good condition. Most are colorful images in ornate wooden frames, but a later oval version is known. Most of these plaques, picking up on the line about "Angels in Heaven", feature some form of angels and, acknowledging the purpose of the holiday, a mother and child (examples 1 and 3). Others are just attractive designs, allowing Poe's verse to set the tone (example 2). Sizes vary widely.
(The selected examples displayed here are reproduced, with permission, from a private collection.)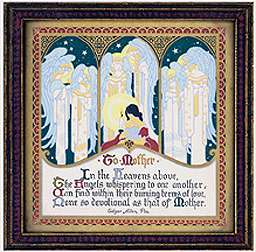 Example 1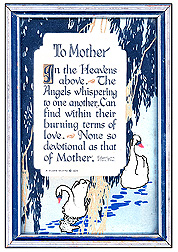 Example 2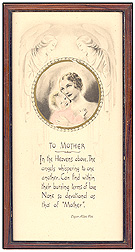 Example 3